Just think about it — amazing vision without the hassles of glasses and contacts. The freedom to hike, swim, work, play… live your life the way you want to live it.
How awesome would that be?
At Center For Sight, our experienced surgeons have helped thousands of patients achieve the freedom of better vision. Many of these patients have chosen vision correction with our popular all-laser LASIK. Others have chosen the corneal inlay procedure to correct their over-40 vision concerns.
Whether you want to achieve great vision without the restriction of glasses and contacts or you want to ditch all those pairs of reading glasses you need just to see the text on your phone, your book and computer and even menus, Center For Sight can help you get there! Ready to get started?
What is LASIK?
LASIK (Laser-Assisted in-Situ Keratomileusis) is a type of refractive surgery commonly referred to as laser vision correction. It treats nearsightedness (myopia), farsightedness (hyperopia) and astigmatism. If you're wearing glasses and/or contacts, and you fall into one (or even two) of the above-mentioned categories, then LASIK may be the right choice for you. At one time, LASIK involved blades and many practices still use them. But today, at Center For Sight, our all-laser LASIK is custom fit to your vision. What does that mean for you? Better outcomes and fewer side effects.
LASIK is one of the most commonly performed elective procedures and has given millions of people all over the world the freedom to enjoy their lives and live them the way they want to.
How Does LASIK Work?
LASIK works by changing the shape of your cornea, which changes the way images focus on the retina. It's a two-step process: Creating a small flap on the cornea, and reshaping the corneal surface, all in just a few minutes! To help you better understand, see the four pictures below.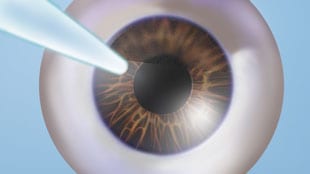 Step 1a A tiny opening is created on the surface of the eye using a femtosecond laser. This opening is called the corneal flap.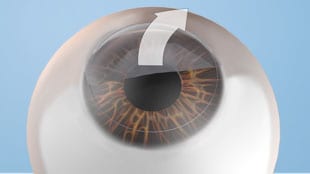 Step 1b The "flap" is gently pulled back to allow access to the cornea, the area that needs to be reshaped.
Step 2a A second laser — the excimer laser — is used to gently change the shape of the cornea according to the customized maps we made at your consultation. (This is the vision correcting portion).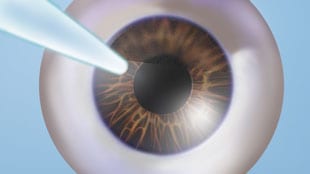 Step 2b The "flap" is gently put back into place. Without any bandages or stitches, it naturally self-seals. Amazing! Most people are back to work the next day.
Imagine. Your vision and your life — 20/Happy.
Is LASIK Right for Me?
The most important step in the LASIK process is determining if the procedure is, in fact, right for you. After all, our goal at Center For Sight is always for you and your vision to be 20/Happy! If you've heard of someone who did not have a good result, the problem is almost always an issue of candidacy. We are so passionate about the life-changing opportunity that LASIK can be! For this reason, we offer your initial consultation as a complimentary service.
Here's what you can expect during your FREE LASIK consultation at Center For Sight:
Dry eye testing
Visual acuity and refractive error
Visual field screening
Ocular pressure
Pupil size in low and medium light
Corneal topography and corneal thickness
General health of the eyes
Once the Center For Sight team has given your eyes the thumbs up, you'll learn everything you ever wanted to know about LASIK (and more!). You'll meet your experienced Center For Sight surgeon and take your next step toward 20/Happy!
LASIK Technology
At Center For Sight, we are committed to using the newest, most advanced technology. Since LASIK was first introduced in the United States, technology for LASIK has drastically evolved (and improved!). The results of your vision correction are now more predictable, reliable and customizable than ever before.
At Center For Sight Las Vegas, 100 percent patient satisfaction (20/Happy!) is our goal. We take pride in introducing the latest vision care technologies to further enhance your results.
To provide the best patient care and best corrected vision for our patients, we perform all-laser LASIK using the Advanced CustomVue Technology, which delivers a unique combination of the WaveScan WaveFront® System and the STAR S4 IR® Excimer Laser. Just like a well-tailored custom suit, Advanced CustomVue Wavefront LASIK is 100% customized to the unique anatomy of your eyes. WaveFront technology measures the unique "fingerprint" of your eye, and provides our team with the topographical information necessary to discern exactly where the refractive errors that cause poor vision are located. This advanced diagnostic tool allows us to craft a highly customized surgical plan that is unique to your eyes and your eyes alone. That means you can expect great results! We also use the IntraLase FS Femtosecond Laser for flap creation (remember step 1 above?). This knowledge puts many of our patients more at ease, knowing there will never be a blade placed anywhere near their eye throughout the entire procedure!
Who will perform my LASIK?
At Center For Sight Las Vegas, a board-certified ophthalmologist will perform your LASIK procedure. You can feel confident knowing you are receiving the highest standard of individualized and compassionate care from your Center For Sight LASIK team.
Meet your LASIK surgeon — Eva Liang, MD
Board-certified ophthalmolgist and refractive surgeon
Medical director and principal surgeon of Center for Sight
Raised in the Las Vegas area
Surgically preserved and enhanced sight for over 10,000 patients
Founder of "Sight for Life," a non-profit organization that helps underprivileged individuals suffering from sight-threatening diseases receive medical and surgical eye care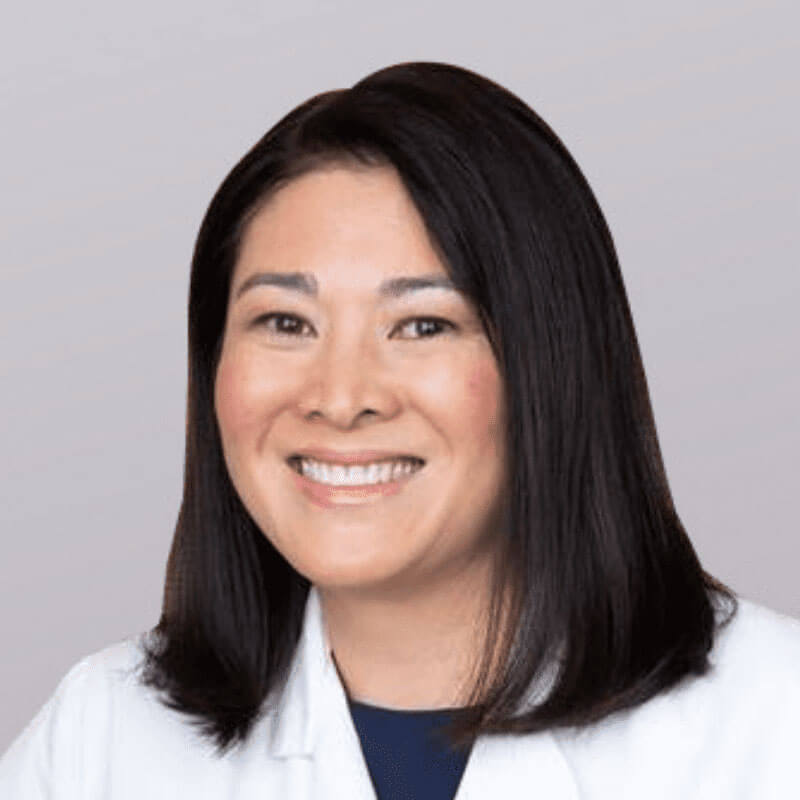 Can I Afford LASIK?
Yes! LASIK is an investment in not only your vision but in your life. Based on patient feedback here at Center For Sight, it's also an experience that adds value and satisfaction to our satisfied patients' lives. They love the freedom to travel, play, work — and everything else they enjoy doing — without restriction. Without having to worry about glasses or contacts. Here at Center For Sight, we believe that quality eye care should be accessible to everyone. That's why we work hard to make LASIK affordable for you. So if cost concerns you, don't let it. Come talk to us! We accept cash, cashier's checks, money orders, credit cards and pre-approved credit plans. If you decide to finance your procedure (many of our patients do), we work with several financial institutions that offer flexible payment options. We know choosing who to trust with your vision is a big decision and at Center For Sight, we are honored to uphold the highest standards of care. Your vision is vitally important to us.
At Center For Sight, our LASIK fee is all-inclusive. It covers:
LASIK consultation
Preoperative examination
Surgeon fees
All fees associated with the lasers we use
All necessary follow-up appointments for the next year
Additionally, we offer convenient financing options to fit just about any budget.
Why Should I Choose Center For Sight for my LASIK?
The decision to have vision correction surgery is a big one. We understand that. And where you choose to have it is the most important part of that decision. When you choose Center For Sight for your LASIK procedure, we honor and greatly value your trust in us. Our goal is to make sure that you have all the information you need to feel comfortable and confident.
Here are some considerations that can help guide your decision-making process:
The LASIK Surgeon: As you're deciding where to have LASIK, it's important to consider the experience of your LASIK surgeon. In short, the quality of the surgeon should be near the top of your consideration list. At Center For Sight, our team of board-certified ophthalmologists has been recognized as LASIK leaders in the Las Vegas area, most recently as "Top Docs". Our team has also performed thousands of eye procedures. Experience matters.
The LASIK Technology: At Center For Sight, we offer a world-class LASIK experience. Not only are our lasers the most advanced available for both flap creation and the reshaping of the cornea, but the diagnostic technology that our team uses to discern the best treatment plan for your eyes is also the most advanced offering available.
The Support: At Center For Sight, our team is committed to crafting a visual outcome that will make you happy. We work carefully prior to your surgery to make sure you know all of the available options, and we work carefully after your surgery to help ensure that your healing process is smooth and optimal for your vision.
The decision to have LASIK surgery is a big step. Our mission at Center For Sight is to make your world 20/Happy, because we know that the decision to pursue vision correction surgery is one that will improve your life in so many ways!
LASIK FAQs
Following is a collection of the most frequently asked questions we hear from individuals interested in learning more about LASIK. If you have a question that is not covered here, give us a call! We're happy to help.
Find out if LASIK is right for you!
Center For Sight wants you to be 20/happy! Thinking about LASIK? You've come to the right place! Center For Sight is the LASIK leader for the Las Vegas region. Call 702.20.HAPPY today or click the button below.